When manufacturers need high-quality recycled plastic resins, there's a reason why many of them turn to KW Plastics. Over the course of the last 36 years, we've made a name for ourselves in the plastics recycling industry — a name of unsurpassed quality, entrepreneurship, and innovation. In today's article, we'll take a walk down memory lane and review the milestones that have made us the company we are today. Read on to learn more!
The Dream of Two Entrepreneurs
After its invention in the 1950s, plastic quickly increased in popularity. Unfortunately, the desirable qualities of plastic proved to be detrimental to the environment because the material did not break down very easily. In the early 1980s, Kenny Campbell and Wiley Sanders in Troy, Alabama were alarmed at the excessive amount of plastic materials that had begun to grow in landfills. Together they eagerly worked to find a solution.
1980's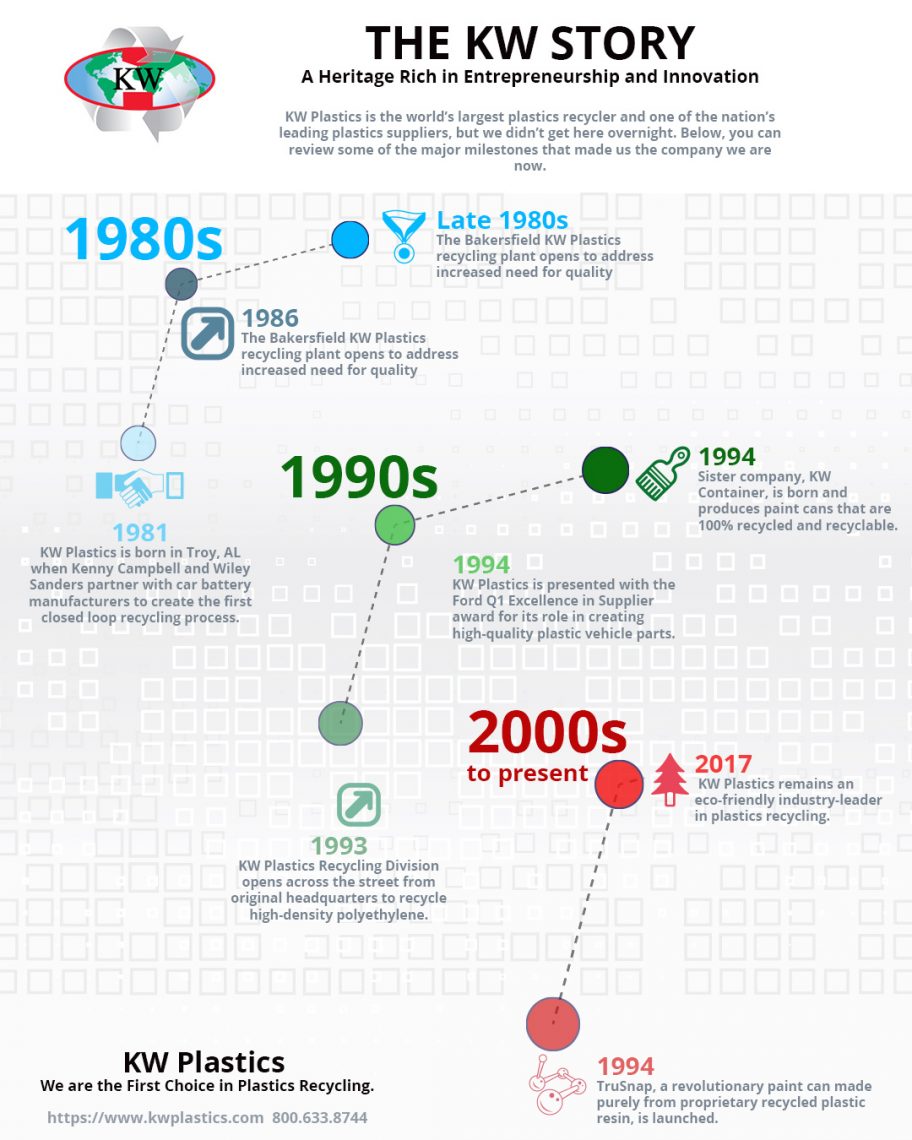 In 1981, Mr. Campbell and Mr. Sanders began working with car battery manufacturers to recycle their polypropylene (PP) battery casings. Together with the battery makers, they devised the first closed loop in post-consumer recycled plastic packaging by purchasing the battery cases, processing and recycling them into resins, and returning them to the manufacturer to make new casings. Such was the beginning of KW Plastics!
In 1986, the need for easier access to our quality plastic resins prompted us to open our Bakersfield, California recycling plant. To ensure a high quality product, we brought in state-of-the-art equipment and incorporated innovative technology to meet the needs of several large west coast manufacturers. By the late 1980s, KW Plastics was the first end-to-end recycling plant in the industry, meaning that plastic scrap came in and then left as new products.
1990s
Feeling that we had capitalized on the PP market, we began to explore other types of plastics for recycling in order to diversify our operations. We discovered that high-density polyethylene (HDPE) was very similar to PP and we sought out to become an industry leader for this type of plastic too. In 1993, we opened another KW Plastics facility across the street from the original KW headquarters.
During this time, we partnered with many automobile manufacturers to produce HDPE items such as bumpers, air ducts, and fender wells. Our hard work and commitment to excellence paid off very quickly and, in 1994, we were recognized with the prestigious Ford Q1 Excellence in Supplier award. Four years later, we entered the packaging industry by providing high-quality, strong one-gallon paint cans. Out of this endeavor, our sister company, KW Container, was formed in 1998, and produced paint cans that were 100 percent recycled and 100 percent recyclable.
2000s to the Present
Following the success of our first 20 years, KW Plastics has continued bringing innovation and excellence to the recycled plastics industry. In 2016, we launched TruSnap, a revolutionary paint can made purely from our proprietary recycled plastic resin. TruSnap paint containers are dent-resistant, rust-resistant, and they come with a triple lock seal that's changed the face of the coatings industry. Beyond this, we are currently the world's largest plastics recycler and we are the world's largest recycled resin supplier for PP and HDPE.
Plastic Scrap Buyer and Recycled Plastic Supplier
To find out what makes our products different, contact a member of our sales team! If you have plastic scrap you'd like to sell, we can help you there, too. With more than 30 years in the industry and a commitment to quality and excellence, you won't find a plastics recycling company that compares.
Call us at 800-633-8744 today to learn more!